Web Analytics has completely transformed on how we look at website performance measurement. Web metrics like bounce rate, page views and time on site have become the key focus of the web measurement vocabulary.
Even though there has been a fairly large amount of technological updates in the web analytics industry, the basis of the technology is still the good old java tag. Missing the java tag one or more pages of your website will result in loss of tracking and potentially impact your marketing dollars and profit.
Here are some of the most common reasons on why one or more pages on your site might be missing java code –
1. Added new page/pages
2. Updated existing page
3. Include file is corrupt
4. Added a new site section
5. Infrastructure changes including addition of a new web content management system.
Introducing Web Analytics Health Scan 2.0
Web analytics health scan is a powerful web based tool that allows you to quickly scan your website and identify the pages with missing web analytics tag. Web analytics health scan currently supports top 5 web analytics solutions including Google Analytics, Omniture, Yahoo Analytics, Coremetrics and Web Trends all in just one tool.  The best part is there is no need for any code installation, plugins or downloads and did I mention it is completely free!
Watch this 28 second video to see how it works and continue reading this blog post to find out how to use the web based tool.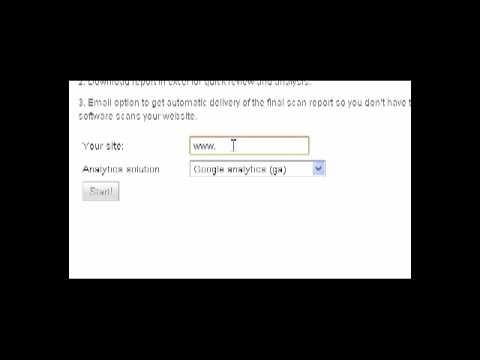 Here is how you can instantly scan your website and identify error pages-
1. Go to WebAnalyticsHealthCheck.com
2. Enter your domain in the box.
3. Select your web analytics solution from the drop down menu. 
4. Hit Enter.
Within seconds, the web analytics health check scanner will scan your web pages and report back all the error pages. You can either wait until the scan is completed and download the excel report, or you can have the report delivered to you or your developer by email.
Once you have the report you can easily fix the error pages and gain back web tracking.
I hope you will find this tool useful. Please share your thoughts, insights and comments so we can make further improvements to this tool.